2011 Fall Concert:
Carl Orff's Carmina Burana
This season is very exciting, starting with our powerful and raucous kick-off concert! introduces yet another extraordinary performance. Don't miss it!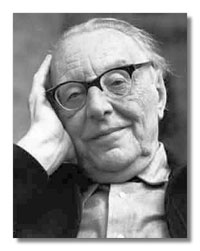 Carl Orff, 1895-1982
Saturday, October 15 | 7:30 pm
Sunday, October 16 | 3:00 pm
pre-concert talk with
45 minutes prior to each performance
Zion Lutheran Church | 5th and Market, Sunbury
Guest Soloists:
Daniel Teadt, Mary Buchman, and Alex Richardson
Sponsor: Woodcock Foundation for
the Appreciation of the Arts, Inc.
Underwriters: Robert & Patricia Goulstone

Toward the end of Verdi's life, he wrote "Let us return to the past; that will be progress." Composers have been advocating that advice ever since the invention of music. Munich native Carl Orff made his own journey back to the bases of musical language. The simple appeal of rhythm in the raw unaccompanied folk tune had a strong impact on his creative imagination.
After composing music for the Olympic Games of 1936, he introduced Carmina Burana, which was—and still is—a piece without parallel in substance or impact. His source and inspiration was the poetry written by the "goliards," or wandering scholars of the late 13th century. The goliards tempered their Christianity with secular beliefs, and Carmina Burana is largely based on mankind's sins and pleasures. SVC Music Director and Conductor William Payn describes Carmina as "a primal, pulsating, and glorious work."
Instrumentals for the upcoming performance include six percussion plus two grand pianos. Our world-class soloists include soprano Mary Buchmann, who hails from the Syracuse Opera, internationally acclaimed baritone, Daniel Teadt, whose appearances include a Grammy Award winning performance with the London Symphony Orchestra, and tenor Alex Richardson, whose 2011 engagements include the Washington National Opera. Also featured is our under the direction of Valerie Flamini Caldwell. Please join us for what is sure to be
a unique, memorable performance!
_________________________
Meet the Soloists
Daniel Teadt, Baritone
This special guest soloist earned both his Bachelor and Master of Music Degrees from the University of Illinois, Champaign-Urbana where he studied with John Wustman. Since then, he's entertained audiences throughout the world with literally hundreds of spellbinding performances. This season Daniel will make his New York City Opera debut in the title role of Georg Phillipp Telemann's Orpheus. He will also be seen in two Pittsburgh premieres as "Charlie" in Jake Heggie's Three Decembers as well as the title role in Tobias Picker's Fantastic Mr Fox.
His accolades include a Grammy Award for "Billy Budd" with the London Symphony Orchestra, a Mattheus Sullivan Foundation Grant, Theodore Uppman Memorial Award from the George London Foundation, Gonzalus Vocal Competition Prize, top honors from the Palm Beach Opera and MacAllister Opera Awards as well as being recently voted Pittsburgh Magazine's Best Local Artist. Mr Teadt currently maintains teaching positions at Carnegie Mellon University and Washington & Jefferson College.
Mary Buchmann, Soprano
Soloist Mary Buchmann is an accomplished operatic, musical theater and concert soloist throughout New York and New England and is a lead soprano soloist at First English Lutheran Church. Mary is also an educator, private vocal instructor and coach including both Broadway and Hollywood talent, award-winning musical theater director and guest choral conductor. Mary was awarded
the prestigious Olive Dillenbeck Goodrich Memorial Award for
vocal excellence from her Alma Mater, the Crane School of Music
at Potsdam State University.
Her outstanding performances are many and varied. Favorite roles include: "Berta" in Barber of Seville, "Angelina" in Trial by Jury, "Annina" in La Traviata, "Belinda" in Dido and Aeneas, "Gianetta" in The Gondoliers, "Sarah" in Company, "Narrator" in Joseph and the Amazing Technicolor Dreamcoat and "Kate" in Kiss Me Kate.
Alex Richardson, Tenor
Experienced and well skilled, with a vibrant presence of sound best describes this tenor's vocal artistry. As a former Fellow at the Tanglewood Institute, Mr. Richardson sang the role of "Vogelgesang" in Wagner's Die Meistersinger von Nürnberg, performed solos in Stravinsky's Pulcinella with Maestro Rafael Frühbeck de Burgos. He sang the role of "Alfred" in Die Fledermaus with Opera Southwest and "Will Tweedy" in Carlisle Floyd's Cold Sassy Tree with Amarillo Opera. He also made his European debut singing "Alfredo" in La Traviata with Festival Lyrique-en-mer/Festival de Belle-Île, France.
As a roster member of the Marilyn Horne Foundation, Mr. Richardson has sung on the recital series On Wings of Song and under their auspices has completed residencies and recitals in towns throughout America. He has appeared in several concert venues throughout the New York area including Carnegie Hall, Avery Fisher Hall, Merkin Concert Hall, the 92nd Street Y, the Cathedral of St. John the Divine, Trinity Church and the Austrian Cultural Forum.