2009 Fall Concert:
A Monument to Memory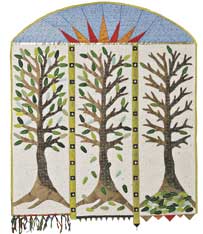 Leaving Us quilt by Cheryl Lynch
The quilt featured above is Out Of Control By Kate Laucomer
October 9, 2009 - 8:00 pm
Weis Center, Bucknell University, Lewisburg
Soloists: Bonnie Cutsforth-Huber, Ted Keegan
and Alyssa Ronco
Sponsor: Woodcock Foundation for the Appreciation
of the Arts, Inc.
Co-sponsors: Mifflinburg Bank and Trust; Family Practice
Center - Dominick Ronco, D.O., and Family
The original composition made possible by major gifts from an anonyous donor, from Robert Goulstone and Patricia McDowell Goulstone, from the Walnut Acres Foundation, from the Gronlund Family, and from the Woodcock Foundation for the Appreciation of the Arts, Inc.
Leadership Donor: Albright Care Services
Special Donor: The Williamsport Home
Alzheimer's Stories
by Robert Cohen (composer) and Herschel Garfein (librettist)
AN SVC PREMIERE PERFORMANCE! To celebrate the Chorale's 40th anniversary, we have commissioned a special work to celebrate our wonderful memories... happy memories, wistful memories, memories lost to Alzheimer's disease, memories cherished by those who still remember.
During this past year, we have collected oral histories from both SVC and community members whose lives have been touched by Alzheimer's. These stories have been used by Robert Cohen (composer) and Herschel Garfein (librettist) to create a work, Alzheimer's Stories, that celebrates the spirit of life. We are grateful to our generous sponsors for making this a memorable 40th anni-versary event. Come celebrate...and remember!
Also, please join us for a gala reception following the concert.
Alzheimer's Awareness Community Events
Join us for a series of community events that accompany our newly commisioned work.
Alzheimer's Purple Bow Project
Alzheimer's Art Quilt Exhibit: "Alzheimer's: Forgetting Piece by Piece"
Lecture: "Iron and the Aging Brain: How Do We Keep a Balance?"
Health Care Professionals Development Event
Caregivers Panel Discussion
MEET THE COMPOSER AND LIBRETTIST
Robert S. Cohen - Composer
Robert S. Cohen has written music for orchestra, chamber ensemble, dance and theatre. He has been the recipient of numerous awards and commissions, including a New Jersey State Council on the Arts Fellowship, an American Music Center grant, a Meet the Composer Award, a Richard Rodgers' Award and, most recently, the 2008 New York Composer's Circle Composition Prize.
His Homeland Security Suite for percussion received its world premiere at Ithaca College in November 2007 and is published by HoneyRock Music; Of Eternity Considered as a Closed System for soloists, chorus and orchestra based on seven poems by the late Rochester poet Hyam Plutzik, was premiered February 5, 2007 at Carnegie Hall as part of a concert sponsored by the Raoul Wallenberg Foundation entitled "Partners of Hope; His Music-Theatre work Edison Invents for Baritone and Orchestra, a commission from the Geraldine R. Dodge Foundation was premiered by the Westfield Symphony in spring, 2005. Other works include a ballet for Percussion entitled Tiktaalik that was premiered April, 2007 as part of Kean University's Ars Vitalis series in association with the NJ Dance Theatre Ensemble and his ballet String Quartet #2 (A Day in the Life) was premiered by the New Jersey Music Society's Ensemble America and the Freespace Dance Company in fall 2004. In addition, his a cappella choral work Sprig of Lilac was performed by the Connecticut Choral Artists (CONCORA) and released on CD by the St. Martin's Chamber Choir of Denver, Colorado; a setting of Wallace Steven's Peter Quince at the Clavier has been performed by CONCORA, Bel Canto and the Cayuga Vocal Ensemble; Genesis Part I: Creation for chorus, brass & percussion received its world premiere at Southern Nazarene University in 2005; and Three Spirituals, commissioned by the Foundation for Universal Sacred Music, was premiered in NY October, 2005." Also, Ode to a Toad, The Serenity Prayer a work for children's choir entitled My New York (commissioned by the Children's Aid Society Chorus), the award-winning The Mysterious Transformation of Johann B for clarinet and percussion to be premiered in New York, May 2009 and Sing with Me for chorus, piano, percussion and synthesizer a 2007 commission by the Pro Arte Chorale and the Geraldine R. Dodge Foundation that will receive its world premiere this March 2009.
Bob co-authored the book and composed the score for the 2000 Richard Rodgers Award winning Off-Broadway musical Suburb. The production at Off-Broadway's York Theatre Company in 2001 earned nominations for Best Musical from the Outer Critic's Circle, the Drama League, and the Lucille Lortel Awards published by Dramatic Publishing and is the author of the short story collection The Half-Life of Pizza and Other Slices and George (My Life as a Cat). He is a graduate of Brown University and Queens College and lives in Montclair, NJ with his wife and two cats Fred & Ginger.
Website: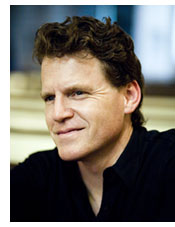 Hershel Garfein - Librettist
Herschel Garfein is very pleased to be working again with Robert S. Cohen on this new piece for the Susquehanna Valley Chorale. He previously wrote the libretto for, and directed Cohen's Edison Invents, which was premiered by baritone Ron Bohmer and the Westfield Symphony.
Herschel is a composer, writer, and stage director. He is the composer and librettist of the opera Rosencrantz and Guildenstern Are Dead, based on the play by Tom Stoppard, which has been presented in a showcase directed by Mark Morris at the Mark Morris Dance Center in Brooklyn in January, 2008; orchestral excerpts were performed by New York City Opera on its VOX 2006 Festival. Mr. Garfein wrote the libretto for the highly acclaimed opera Elmer Gantry, which premiered this season in Nashville, TN and Montclair, NJ. Future productions of Elmer Gantry have now been scheduled at Florentine Opera (Milwaukee), Opera Cleveland, Opera Columbus, and three other houses.
Herschel Garfein's previous credits include: the dance trilogy Mythologies (for Mark Morris), Sueños (for Mabou Mines/ Boston Musica Viva), and other music-theater pieces. Direction credits: Elmer Gantry workshops, Ullman's The Emperor of Atlantis (Northeastern U. and Merkin Hall). Other works include: incidental music for Troilus and Cressida (TFANA, dir. Sir Peter Hall), American Steel (The Alabama Symphony), Places to Live (Boston Classical Orchestra) and a String Quartet (Lark Quartet). Awards from: The National Institute of Opera/Musical Theater, The National Endowment for the Arts and the Sundance Institute. He lives in Brooklyn is on the faculty of the Program in Vocal Performance at the Steinhardt School, New York University.
MEET THE SOLOISTS
Bonnie Cutsforth-Huber - mezzo soprano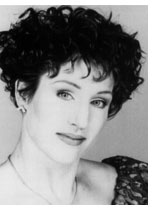 Canadian-born mezzo soprano Bonnie Cutsforth-Huber is active in oratorio, cantata, and operatic circuits. She has appeared as a soloist with such organizations as the Bach Concert Series (Baltimore, MD), Annapolis Chorale, Friday Morning Music Club Chorale of Washington D.C., NIH Philharmonica, and the Harford Choral Society. Highlights include Bach's St. John Passion, Handel's Alexander's Feast and Urtrecht Te Deum, Mozart's Solemn Vespers of the Confessor, Mendelssohn's Elijah, Haydn's Mass in Time of War, Handel's Messiah, Beethoven's Ninth Symphony, and several cantatas by Johann Sebastian Bach. Recent recital credits include concerts in Rome, Italy, and The Aspen Institute.
Among Ms.Cutsforth- Huber's operatic credits are performances with Kentucky Opera, Cincinnati Opera, Rome Festival Opera, and Amici Opera; roles include Marcellina in Mozart's Le Nozze di Figaro, Carmen in Bizet's Carmen, Meg in Verdi's Falstaff, Emilia in Verdi's Otello, and the Countess in Massenet's Andrea Chenier. Italian critic Mario Pio Amico has described her as "extraordinary," "intense and expressive," and noted her "excellent interpretation of character."
Ms. Cutsforth-Huber holds a Bachelor of Music in vocal performance from the University of Saskatchewan, a Master's degree in vocal performance from Southern Illinois University, and a Ph.D. in musicology from the University of Kentucky. She currently serves as assistant professor of music at Penn State Altoona.
Ms. Cutsforth-Huber would like to dedicate this performance to her aunt, Margaret Cutsforth, and to the loving memory of her grandmother, Ada Cutsforth.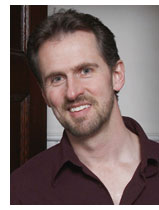 Ted Keegan
Ted Keegan is a native of Watertown, New York with an undergraduate degree from Ithaca College and a graduate degree from UNCGreensboro. He last seen as the Phantom in Phantom the Las Vegas Spectacular. He starred in the National Tour of The Phantom of the Opera following a very successful run in the Broadway Company. Ted has performed the role in over 24 States across the country. He has had the great pleasure of appearing as The Phantom on television, performing live from Rockefeller Center for the "Today Show" on NBC. And he has the distinction of being the actor who has sung the role in front of the largest audience ever, when he made a spectacular flying entrance from the dome of Madison Square Garden singing "The Phantom of the Opera" during the halftime show of the NBA AllStar Game. Ted was deeply involved in the George Gershwin Centennial Celebration. He performed unpublished Gershwin at the opening of the George and Ira Gershwin Room at the National Archives in Washington, DC, which The New York Times reviewed as one of the ten best musical events of the year. Ted has also sung Gershwin with Audra McDonald in New York and with Marin Mazzie at the opening of the Santa Fe Chamber Music Festival. He appeared in the Frank Loesser Celebration at Symphony Space in New York City and was a soloist at Lincoln Center's Avery Fisher Hall, singing Unheard Bernstein. Ted hosted the Yuletide Celebration in Indianapolis, singing with the 90piece Indianapolis Symphony Orchestra. A few of the orchestras Ted has performed with as a solo performer include the Detroit, Syracuse, Charleston WV, Portland, Pittsburgh, Ottawa, Omaha, Baltimore, Las Vegas, Fort Worth, Edmonton Symphonies and the Dayton Philharmonic, as well as the National Symphony at the Kennedy Center. Ted made his Broadway debut in the highly acclaimed revival of Sweeney Todd, where he was seen as Anthony. Other Broadway and National Tour credits include Cyrano: The Musical, Mordred in Camelot with Robert Goulet, Freddy in My Fair Lady, Herman in The Most Happy Fella, Constantine in Hollywood/Ukraine and another Phantom too – in the European Tour of the Kopit/Yeston version. Ted's first solo CD, "Ted Keegan Sings" is available stores and at iTunes.
Alyssa N. Ronco - soprano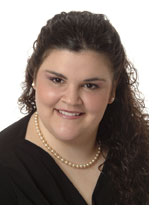 Alyssa N. Ronco, a native of Mifflinburg Pennsylvania, holds her Bachelor of Music degree from Oberlin College Conservatory of Music and her Master of Music Degree from Manhattan School of Music. She has studied with teachers and coaches such as Daune Mahy, Maitland Peters, Sharon Sweet, Gait Sirguey, and Mignon Dunn. She was awarded a Dean's Merit Scholarship while at Oberlin and was a 2001 NATS finalist under the direction of Daune Mahy. While at Oberlin, she was active in Opera Scenes, Chamber Music and served as a voice teacher to secondary voice students. She maintained a studio of high school students as well as served on the faculty for Avon Lake School of Music, in Avon Lake, Ohio. She attended Oberlin in Italy in 2002 and 2003 studying opera scenes, chamber music, Italian Language, as well as serving as production assistant for the festival. In the summer of 2005, she attended the Rome Festival singing the role of Fiordiligi in Mozart's Cosi fan tutte. At Manhattan School of Music, she studied with Maitland Peters and was a member of the Opera Studio singing the Role of Candace Whitcomb in Steven Paulus' opera The Village Singer. She also sang in the Chorus of Rider's to the Sea and performed the role of Grandalpha in the Discover Opera! Outreach production of Queen Kong. Her professional credits include the role of La Ciesca in Gianni Schicchi and Buoso's Ghost with New Jersey Opera, the soprano solo in Poulenc's Gloria with the Susquehanna Valley Chorale, and recital performances in Italy. Ms. Ronco serves on the faculty at several performing arts schools in northern New Jersey.